The Elephant (Known as Elefant in German) is one of the 2 tanks without a turret(rotating barrel) in Rails of War. It has the same stats as a Pot Tank, but its gun is more powerful but is not mounted to a turret, which means the entire tank has to move in order for it to aim.

It is based on the German tank destroyer of the same name in real life (was also once known as Ferdinand).
Strong unit with a non rotating barrel, so it is slow in it's aim(Game Instructions).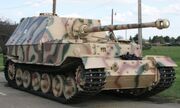 Ad blocker interference detected!
Wikia is a free-to-use site that makes money from advertising. We have a modified experience for viewers using ad blockers

Wikia is not accessible if you've made further modifications. Remove the custom ad blocker rule(s) and the page will load as expected.